photo: Food Not Bombs, Poland 
Our Disaster Relief Fund provides fast turn-around grants to individuals and organizations helping victims in their own communities. This page highlights current and past relief efforts in descending order. If you need assistance or know of other emergency plant-based food relief efforts, please email [email protected].
~ Donate Here ~
We send 100% of all donations (no fees).
---
Ukraine War Relief (2022-23)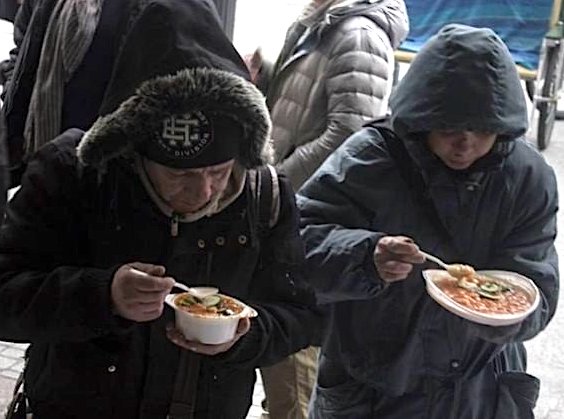 We're distributing grants to mission-aligned groups helping people and animals in Ukraine and surrounding regions. Groups include: Lviv Vegan Kitchen, Shelter Ugolyok (a vegan animal sanctuary), Vegan Kitchen Ukraine (a free food project of Ukrainian animal rights group Every Animal), Ukrainian restaurant Vega Room, which has turned its facility into a free vegan meal center, and multiple Polish chapters of Food Not Bombs providing plant-based food to refugees (more info). We have also assisted Seed Programs International who are distributing vegetable seed kits to refugees for kitchen and community gardens.
---
Covid-19 Feeding Programs (2020-2022)
We are providing funds to support plant-based feeding and farming projects in the U.S. and internationally to assist people harmed by the pandemic. Examples include: plant-based food pantries, meals to people in economic distress, and food aid to quarantined seniors and other at-risk populations. Pictured here is Brenda Sanders of The Greener Kitchen.
---
St. Maarten, Hurricane Irma (February 2018)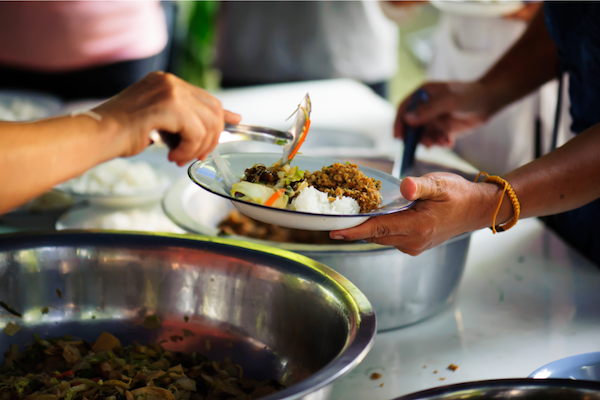 Volunteers with the Freegan Food Foundation on the island of St. Maarten mobilized to provide nourishing plant-based meals to survivors of Hurricane Irma there. At the time, some 2200 victims of the hurricane were still living in their cars after losing heir homes, and were in need of food, water and other basic necessities.
---
Puerto Rico, Hurricane Maria (September 2017)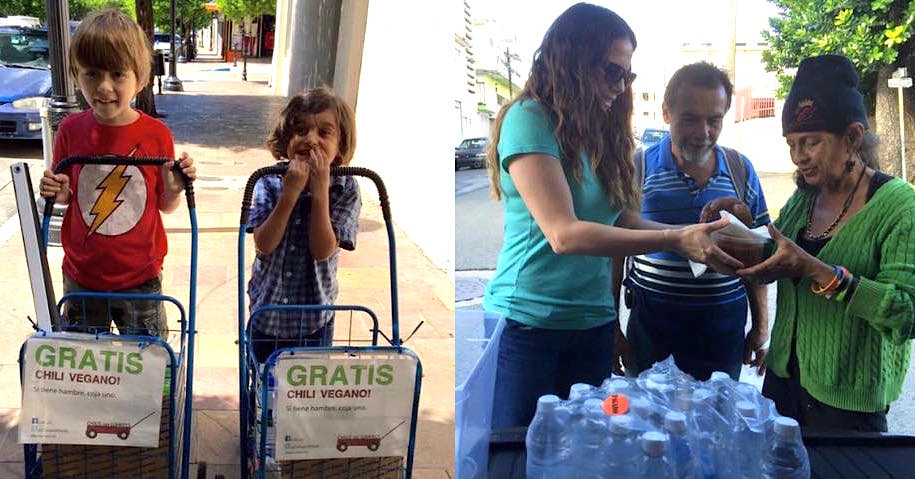 In the wake of Hurricane Maria, A Well-Fed World is providing support to Chilis on Wheels, who are traveling to Puerto Rico to provide plant-based meals daily at multiple relief locations. Additionally, through October 4th, ALL funds donated directly to Chilis on Wheels at the following links will be allocated to vegan food relief for Puerto Rico: chilisonwheels.org/donate or PayPal.me/chilisonwheels.
---
Mexico, Earthquake (September 2017)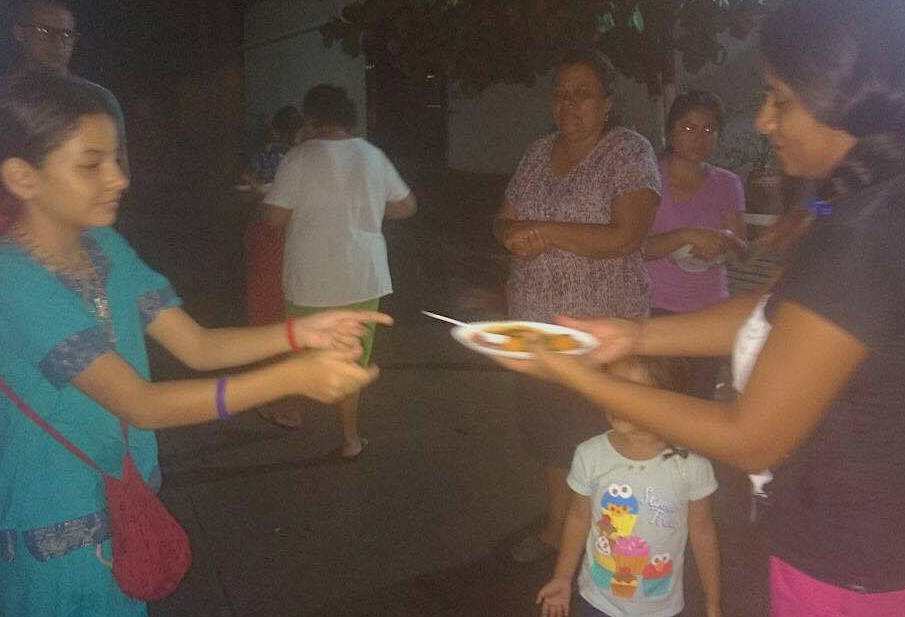 Food for Life Mexico was a first responder to the magnitude 7.1 earthquake that rocked Mexico on September 19th, the second to strike Mexico in as many weeks, killing at least 230 people in the capital and across five states. Officials said the toll was likely to rise.
Food for Life Mexico began serving hot vegan meals to people in Ixtaltepec, Tehuantepec, and Juchitan the next day. Around 500 meals are served twice daily to local people who are now living in makeshift tents; more than 80 percent of the houses are destroyed.
Food For Life Global South American Coordinator Juliana Castaneda Turner has reported that the relief teams need better equipment, including larger pots, cooking spoons, refrigerator, and plates. "They are doing the best they can with what they have," she explained.
---
Houston, Hurricane Harvey (September 2017)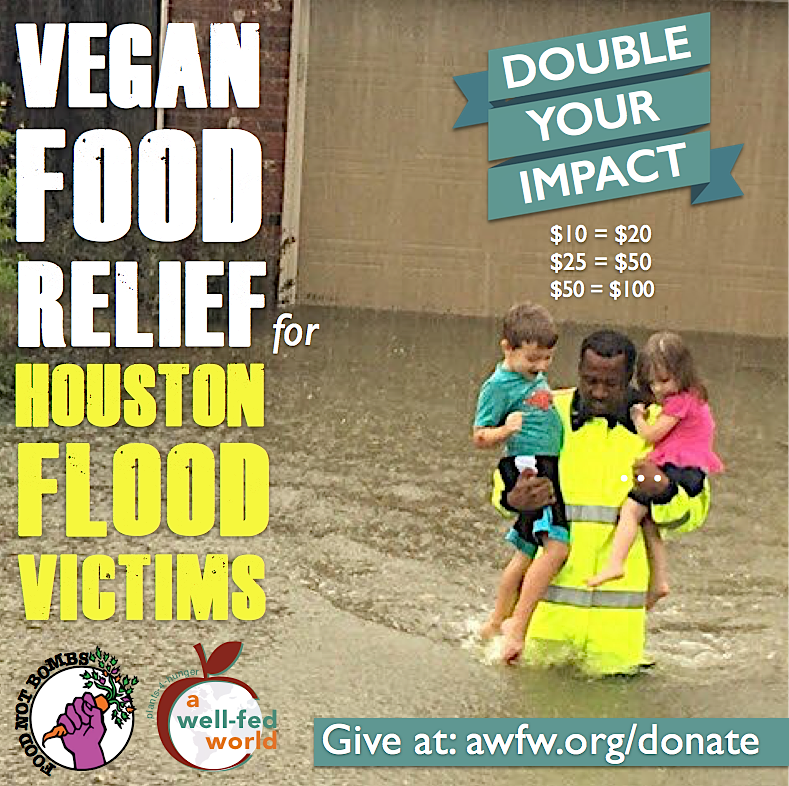 A Well-Fed World fundraised and matched donations up to $5,000 (for a total of $10,000 raised) to support the Food Not Bombs Houston free vegan food shares for victims of Hurricane Harvey.
---
Peru & Colombia, Floods (April 2017)

In late March and early April of 2017, massive flooding and mudslides took the lives of hundreds of people in South America, and left more than 700,000 homeless. Many animals were also killed, and many more injured and displaced, including street-dwelling cats and dogs, companion animals, and farmed animals.
With the help of our supporters, A Well-Fed World provided much-needed financial assistance to Juliana's Animal Sanctuary, a vegan-run refuge in Colombia, to aid their rescue and veterinary care to animal victims of the flood. We also assisted Food for Life Global to mobilize vegan meals for distribution to human victims of the flooding.Video here.
---
Standing Rock #NoDAPL (November 2016)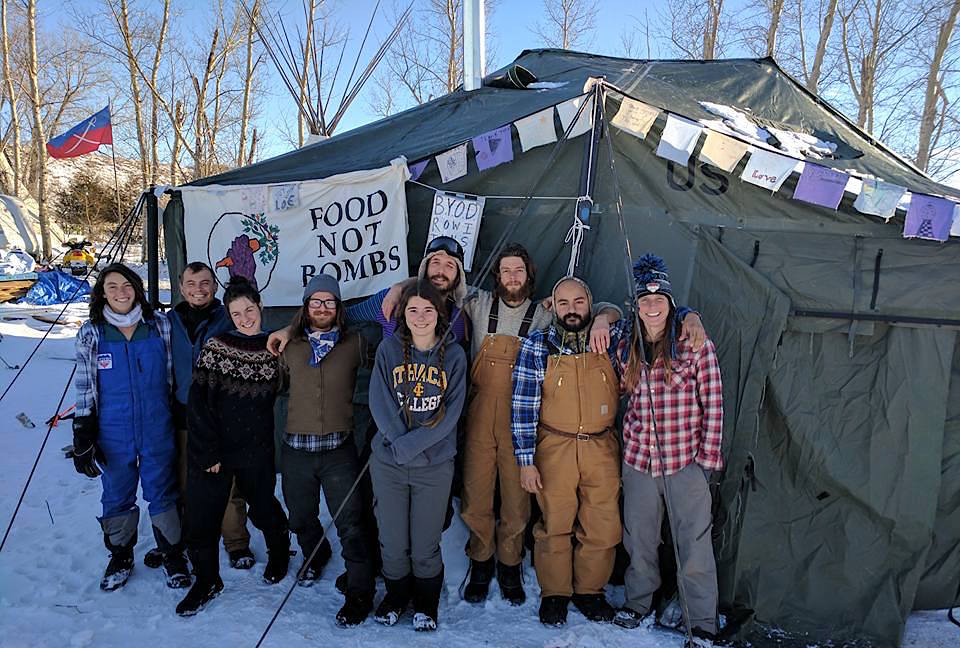 In partnership with Food Not Bombs, we ran a matching grant fundraiser to assist the Standing Rock Sioux tribe pipeline protest. The outpouring of support was immense, and we quickly raised almost $15,000, which we doubled for a total of $30,000. All funds were sent directly to Food Not Bombs activists, who traveled to Standing Rock with food, blankets, canteens, water, firewood, wood stoves, shelter construction materials, and a 300 watt radio station broadcasting the location of their free mobile kitchen and warm meals to all the water protector camps.
---
Haiti, Hurricane Matthew (October 2016)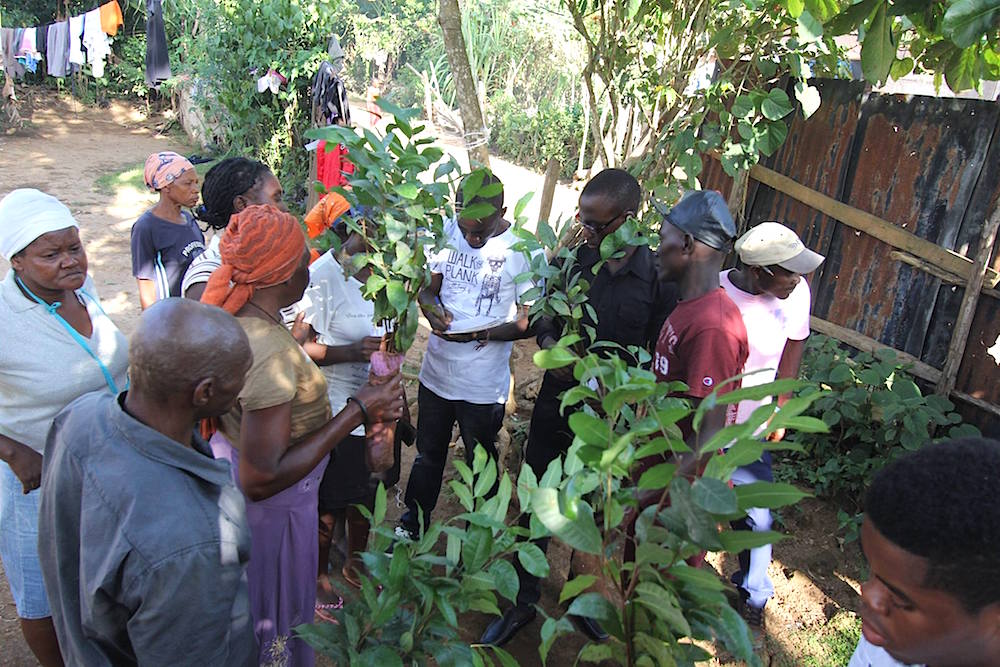 Assisted by funding from A Well-Fed World supporters, our extraordinary partners at Sadhana Forest went to Jérémie, Haiti to provide immediate disaster and hunger relief to communities devastated by Hurricane Matthew. Sadhana Forest is a veganic farming and teaching nonprofit that specializes in food forests in India, Kenya, and Haiti. Since their Haitian team has been on location for six years, they were able to quickly and efficiently mobilize.
Sadhana states...
"The team planted trees with local people amidst the fallen homes and trees, and severe soil erosion. These trees will provide hope and plant-based food security for survivors. Our deep gratitude to A Well-Fed World for their love and support!"
The AWFW team sends back our deepest gratitude for Sadhana's life-saving work in some of the world's most impoverished regions.
Special thanks also to Seed Programs International -- one of our Leverage Award Grantees -- for their work with Haitian farmers to restore 1,000 vegetable gardens.
---
Nepal, Earthquake (May 2015)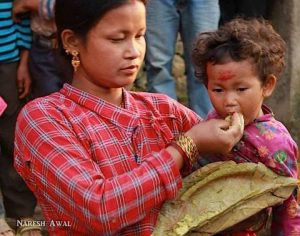 On April 25, 2015, a devastating earthquake struck Nepal, killing more than 7,000 people and injuring more than twice that many. Hundreds of thousands of homes were destroyed and entire villages wiped out. Some 1.7 million children were estimated to be in critical need of food, water, and medical assistance.
We assisted our partners Food for Life Nepal, who with the help of donations were able to distribute warm, nutritious vegan meals to those most in need.
Animals too were badly affected by the earthquake, including millions of farmed animals who were helpless to escape. In addition to the massive death toll, hundreds of thousands of animals suffered from injuries, and lack of food and water. With the help of our supporters, we financially assisted local animal protection organization Tree of Compassion, who mobilized to help animal victims of the disaster, including homeless street animals, displaced companion animals, and farmed animals.
---
Liberia, Ebola Virus Epidemic (January 2015)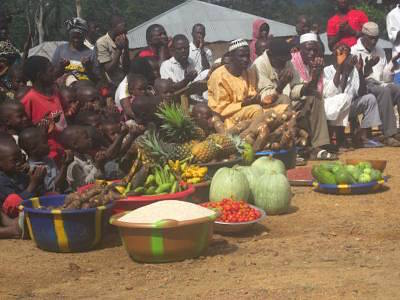 Food Relief: A devastating outbreak of Ebola virus disease occurred in Liberia from 2014 to 2015, and the epidemic spurred price hikes and food shortages. A Well-Fed World provided assistance to Liberia Animal Welfare & Conservation Society, a local Liberian vegan non-profit that distributed free vegan food to four villages in Lofa County.
LAWCS founder Morris Darbo wrote: "The funds made tremendous impact at this crucial moment in Liberia when we are fighting the Ebola epidemic. The Ebola crisis has taken the lives of over 4,000 Liberians. The fund was very crucial in feeding the starving population with free vegan food."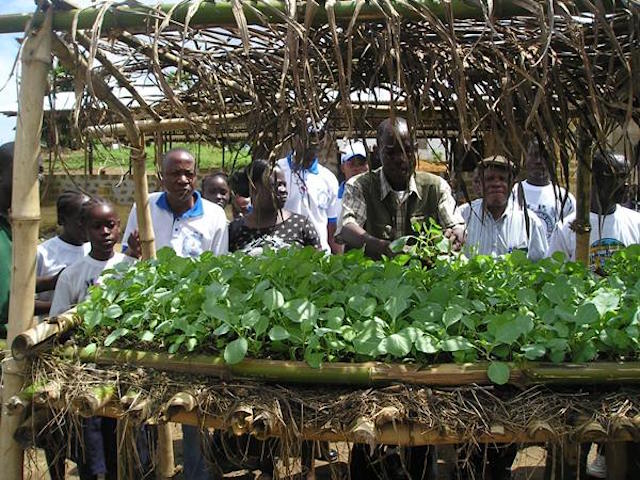 Seed Distribution: In a country where so many already live on less than $2 a day, finding nutritious food becomes increasingly difficult when travel is restricted and markets cease to function, as was the case in many places hardest hit by the Ebola outbreak.
Growing one's own food is often the best solution, but while many people in Liberia can access land, many do not have good seeds. In January of 2015, A Well-Fed World partnered with Seed Programs International to provide 10,000 packets of non-GMO vegetable seeds to people facing hunger in Liberia. One household set of 14 vegetable seed packets costs less than $5 shipped, and can grow more than 100 pounds of food. SPI worked with three in-country partners who were able to reach those communities most isolated by poverty and disease.
---
For a list of more plant-based feeding projects we sponsor or support, please see our Plants-4-Hunger program as well as our list of standout projects around the world. And visit our blog to read 7 Ways Plant Foods Are Fighting Global Hunger, and Why We Need Plant-Based Approaches to Hunger.