Below we highlight a few of the standout plant-based feeding and farming projects that we support.
---
Sustainable School Health and Nutrition Program – Ethiopia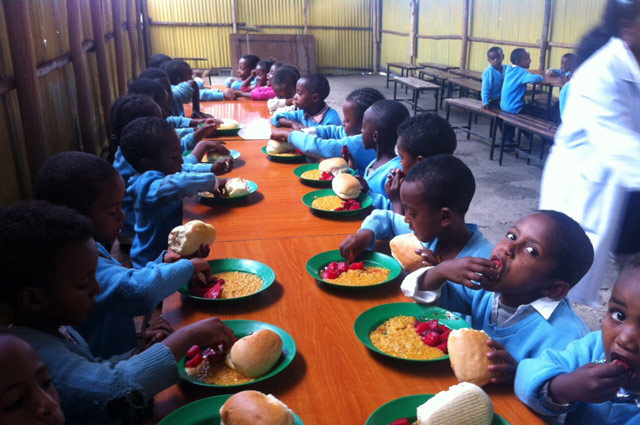 ~AWFW partner organization and Plants-4-Hunger campaign recipient~
International Fund for Africa provides immediate and long-term assistance to some of the world's most vulnerable children through their new innovative and multi-prong Sustainable School Health and Nutrition Program.
In addition to funding local staff and equipment, the program builds income-generating bakeries and school vegetable gardens that will help sustain students indefinitely. In the five initial schools, about 500 children who are the most in need, receive a daily meal, health monitoring, and vaccinations.
---
Veganic Urban Food Gardens – USA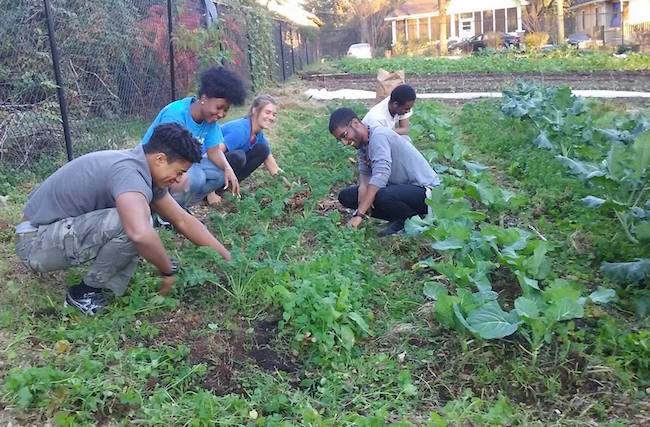 ~AWFW partner organization and Plants-4-Hunger campaign recipient~
Our partners at Grow Where You Are (GWYA) and MaituFoods are a team of veganic farmers and food justice activists in Atlanta working in the areas of food security, ecological restoration, and animal-free growing techniques. Since 2009, they have been empowering individuals and families to improve their personal food security by planting backyard and community food gardens. These gardens can drastically increase families' access to fresh fruits and vegetables, especially in urban food deserts.
GWYA also partners with land-owning churches to install and manage organic vegetable micro-farms in struggling urban neighborhoods on community land that would otherwise sit unused. Produce from these urban farms is used to feed community members and volunteers, to stock produce stalls that GWYA sets up in Atlanta's food deserts (areas that otherwise have little to no access to nutritious fresh fruits and veggies) and to supply meals to MaituFoods (a plant-based meal delivery service and nutrition education hub that works to develop culturally appropriate and accessible educational materials).
---
Food & Nutrition Program – Guatemala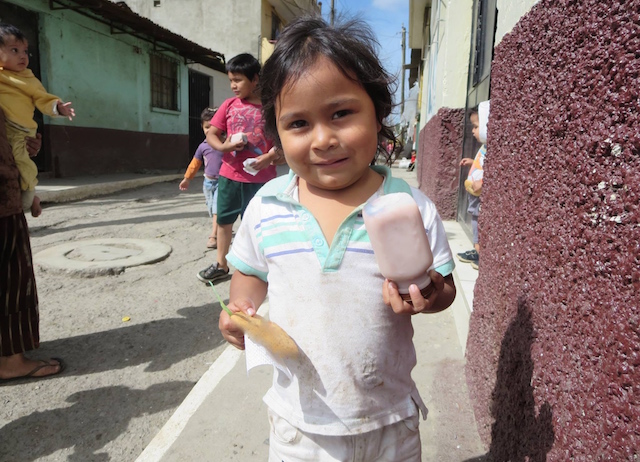 ~AWFW Plants-4-Hunger campaign recipient~
Plenty International works with agricultural experts to grow and distribute three varieties of non-gmo soybeans to farming families. Their Karen's Nutrition Program works with Guatemalan women to improve the nutrition of undernourished children living in extreme poverty at the Guatemala City landfill. Local women's groups produce enough fortified bakery foods and soy milk to distribute to 400 children living at the dump site and to sell for other expenses.
---
Hunger Relief & Disaster Relief – Ukraine/Global
~AWFW partner organization~
Food For Life Global projects span the globe providing plant-based meals to people who are malnourished, disadvantaged, or victims to war or disaster. Food For Life has volunteers in more than 50 countries. In addition to their direct food relief, FFL establishes education centers as venues to provide plant-based food, teach free yoga, and provide counseling and living skills.
Pictured: Food for Life Ukraine is bringing hope and healthy meals to victims of the current conflict. Volunteers serve thousands of plant-based meals to families in need throughout the region.
---
Seed Distribution – Liberia/Global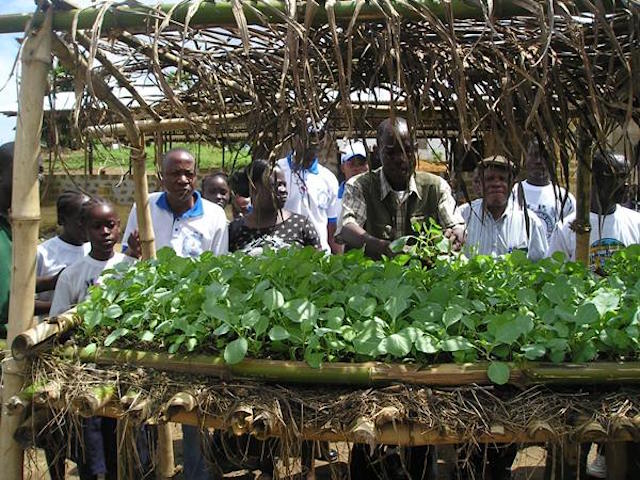 Seed Programs International is providing 10,000 packets of non-GMO vegetable seeds to people facing hunger in Liberia.The spread of Ebola has spurred price hikes and food shortages. In a country where so many already live on less than $2 a day, finding nutritious food becomes nearly impossible as travel is restricted and markets cease to function.
Growing one's own food is often the best solution, but while many people can access land, few have good seeds. SPI is working with three in-country partners who have the ability to reach those communities most isolated by poverty and disease. One household set of 14 vegetable seed packets costs less than $5 shipped, and can grow more than 100 pounds of food.
---
Food Pantry and Cooking Classes – USA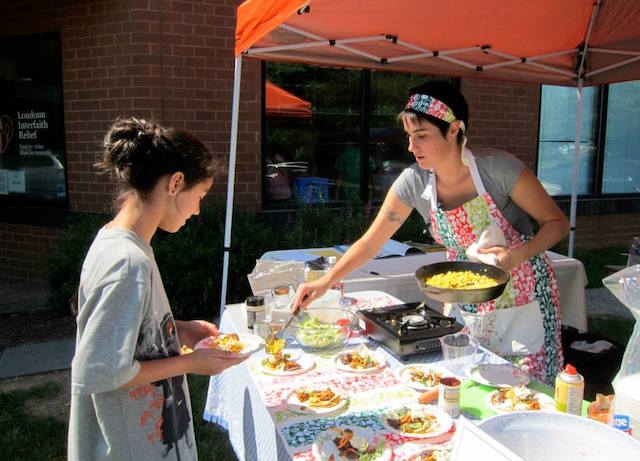 Loudoun Veg is a nonprofit organization dedicated to creating a compassionate, sustainable community both globally and at home in Loudoun County, VA by promoting consumption of plant-based foods. The group's outreach efforts in Loudoun's low‐income community include monthly plant-based cooking demos and food sharing at a local food pantry. Along with demonstrations of how to prepare nutritious, inexpensive vegan meals that are then shared with pantry participants, Loudoun Veg provides those interested with grocery bags containing the featured recipe, and enough ingredients to make four servings.
As a supplement, they distribute educational pamphlets in both English and Spanish explaining the hows and whys of a vegan lifestyle. Loudoun Veg also created the Vegan Food Stamp Challenge, a campaign that helps raise awareness around issues of hunger and food insecurity. They challenge participants to eat for one week on a total budget of $30, and to donate what they save on weekly groceries to a local food bank or pantry. Participants are also asked to follow a vegan diet to help build a more sustainable food system to feed the world's growing population.
---
Trees That Feed – Haiti/Global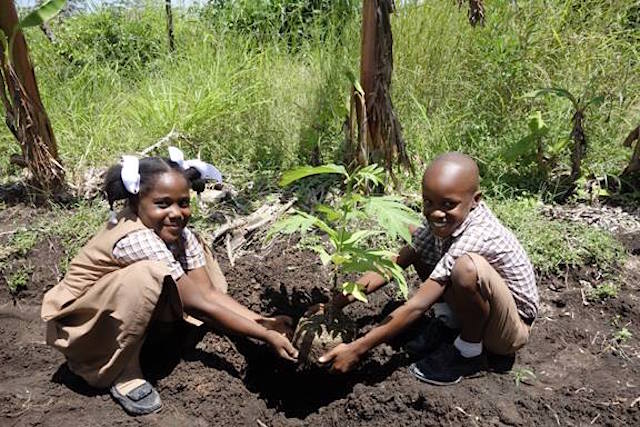 Trees That Feed Foundation is a non-profit that supplies food trees to individuals and communities. They plant trees to feed people, create jobs, and benefit the environment. Trees That Feed works with governments and non-profits in countries with extreme food dependence and hunger to provide trees, equipment, and training to farmers and co-ops.
Their food trees include: cashew, ackee, moringa, breadfruit, pigeon pea, pomegranate, mango, guava, lychee, and more. These tree crops are nutritious yet require less input of labor, agro chemicals, fertilizers, and space than field crops. Trees also restore ecological balance to land damaged by misuse or neglect, capture and sequester carbon dioxide from the atmosphere, and create habitats for small animals and birds. The benefits of TTF's work are permanent and sustainable, helping to establish independent farmers, co-operatives, and commercially successful operations.
---
Community Food Garden – Israel/Global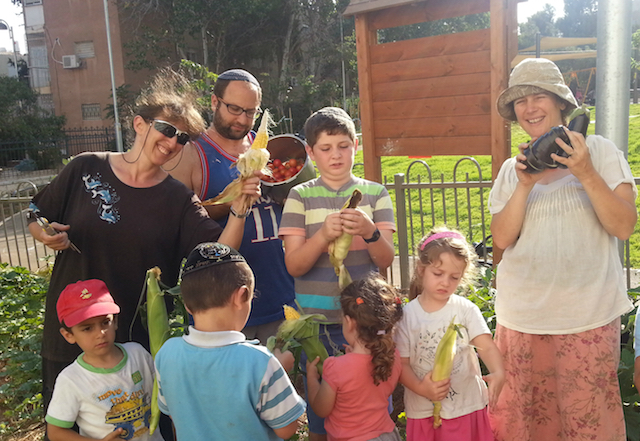 Through ongoing support of Kitchen Gardeners International, we support projects like the Brurya Community Garden, which is situated between a nursing home and a public park. This is a unique corner of Jerusalem: an urban neighborhood brimming with both seniors and young families. The garden's goal is to promote ecological values of urban agriculture for all residents of the neighborhood while creating the conditions for cross-generational interaction and community-building.
In a city with crowded apartment buildings and few gardens, residents often lose any connection to the land. The Brurya Community Garden empowers community members toward sustainable self-reliance, and demonstrates how people can work together to revive even the smallest plot of land to provide nutritious food and community fellowship.
---
Hunger Relief in Ebola-Affected Communities – Liberia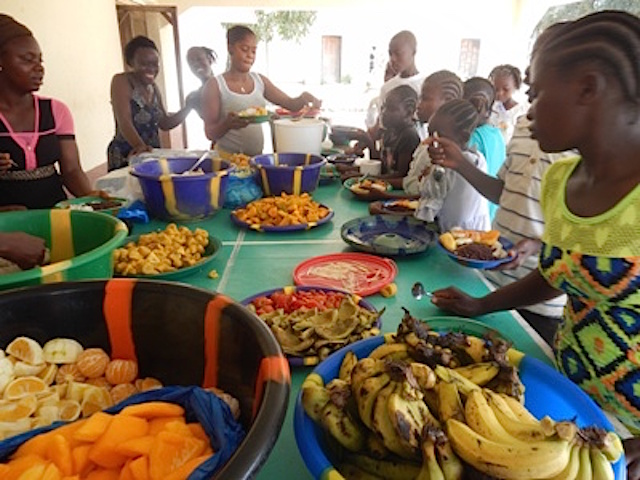 The Liberia Animal Welfare Society provides free vegan food to local communities. They also educate communities about plant-based nutrition and the many shared benefits of a plant-based diet, including saving farmed animals, wild animals, and pets.
A strong effort has been the provision of food to areas impacted by Ebola. Officials believe that the Ebola virus has a close link with wild animals. Since the outbreak of the Ebola virus in Liberia in March, the government has banned the hunting and eating of all bush meat as one way to fight the spread of the disease. Because of this ban, Liberia has experienced a drastic increase in the consumption of farmed animals, as well as of domestic and stray dogs and cats. With our assistance, LAWS has expanded their reach promoting plant-based alternatives in addition to providing direct food assistance.
---
Food for Monks – India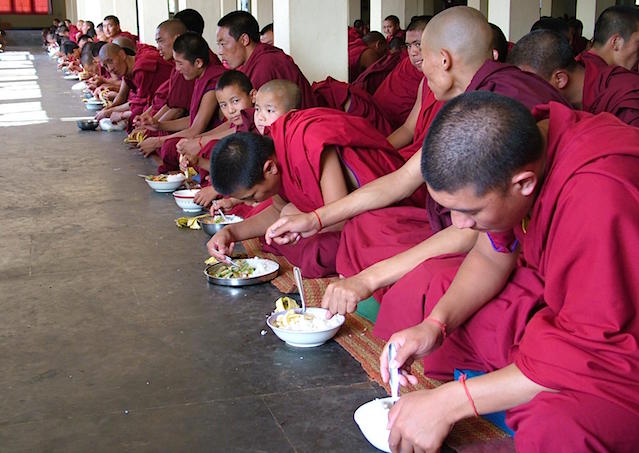 The Sera Je Food Fund provides three nutritious meals daily for all 2,500 monks living at Sera Je Monastery in southern India. This service provides one of the most fundamental needs for life – food – and allows the monks to focus on their studies without the burden of sourcing and preparing their own meals.
Before the food fund, most monks at Sera Je never had a full stomach. Now they are well nourished, content and full. Because of the fund, there has been a dramatic difference in the energy with which they are able to pursue their studies.
---
Food for Refugees – Central African Republic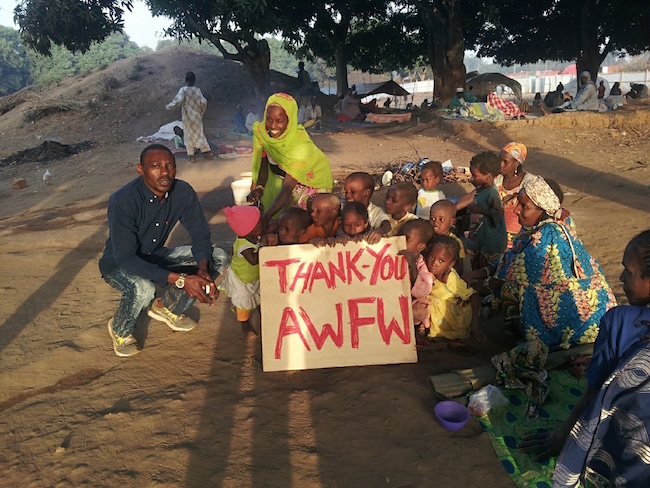 AVDA Cameroon is a human and animal rights organization that provides information and guidance on various aspects of veganism and animal protection. They also facilitate plant-based hunger relief to disaster victims. As violent clashes persist in the Central African Republic, thousands of hungry refugees continue to pour into Cameroon without food. Our emergency grants provide vegan food to refugees in need.