Biodiversity: What It Is & Why It Matters
Unprecedented Rates of Biodiversity Loss
Animal Agriculture Driving Biodiversity Loss
Effects of Biodiversity Loss on Health & Hunger
---
Biodiversity: What It Is & Why It Matters
The term biodiversity, shorthand for biological diversity, is defined as the variability among living organisms on earth, and the ecological complexes of which they are part; this includes diversity within species, between species and of ecosystems. Biodiversity is understood to be a marker of environmental health and balance at both a micro (regional) and macro (global) level.  

Biodiversity is important in species and ecosystems because it facilitates greater stability, productivity, and sustainability. Species of plants and animals with more genetic diversity have adapted to a wider variety of environmental conditions and pressures, and are thus more resilient to environmental disturbances, diseases, and climate extremes. Where plants and humans are concerned, greater biodiversity means greater varieties of foods and medicines, including varieties that are tolerant or resistant to extreme temperatures, blight, and other conditions.
---
Unprecedented Rates of Biodiversity Loss
In Biodiversity Loss—More Than an Environmental Emergency, Dr. Dilys Roe notes:
Biodiversity is about not just the wealth of nature, but also the health of nature. Loss of biodiversity undermines ecosystems' abilities to function effectively and efficiently and thus undermines nature's ability to support a healthy environment. This is particularly important in a changing climate in which loss of biodiversity reduces nature's resilience to change. It is also particularly important for people of a lower socioeconomic background who are more directly dependent on nature than are others, and who will be hit the soonest and hardest because of their existing vulnerability to climate change.

Although some loss of biodiversity is normal, the current rate of extinction is unprecedented, being up to 1000 times higher than natural background rates… [T]he current rate of loss poses a severe threat to key development priorities (eg: health and hunger).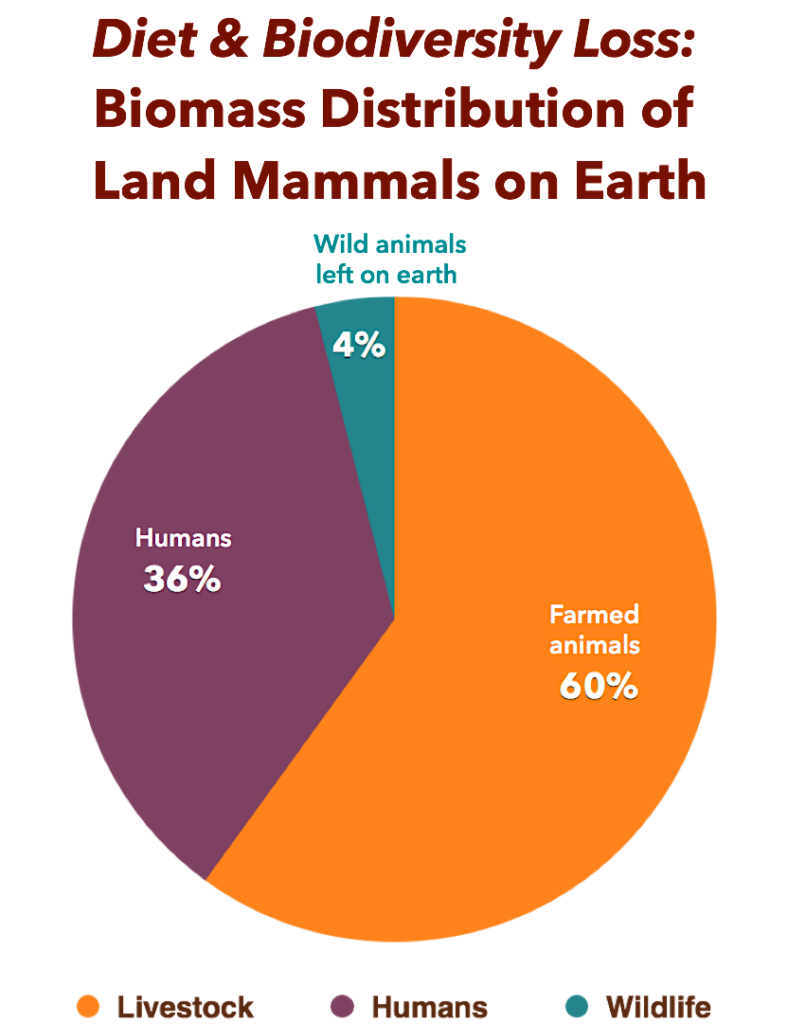 The graphic above is based on data from a 2018 report published in the Proceedings of the National Academy of Sciences (PNAS), titled "The Biomass Distribution on Earth." The study found that while the world's 7.6 billion humans comprise just 0.01% of all living things, human consumption patterns have caused the loss of 83% of all wild mammals and half of all plant species, while livestock numbers have soared to a staggering artificial imbalance as a result of animal agriculture.
"The new work reveals that farmed poultry today makes up 70% of all birds on the planet, with just 30% being wild. The picture is even more stark for mammals – 60% of all mammals on Earth are livestock, mostly cattle and pigs, 36% are human and just 4% are wild animals."
---
Animal Agriculture Driving Biodiversity Loss
Clearing all of the land needed to house and pasture so many cattle, sheep, pigs, chickens, and other farmed animals (and to grow crops to feed them) has led to livestock production becoming the single greatest driver of wildlife habitat loss and destruction globally. According to a study published in Science of the Total Environment, "Biodiversity conservation: The key is reducing meat consumption:"
"The consumption of animal-sourced food products by humans is one of the most powerful negative forces affecting the conservation of terrestrial ecosystems and biological diversity. Livestock production is the single largest driver of habitat loss, and both livestock and feedstock production are increasing in developing tropical countries where the majority of biological diversity resides. Livestock production is also a leading cause of climate change, soil loss, water and nutrient pollution, and decreases of apex predators and wild herbivores, compounding pressures on ecosystems and biodiversity."
A study published in September of 2019, "The role of global dietary transitions for safeguarding biodiversity," urged that one quarter of the world's tropical land could disappear by the end of the century unless meat and dairy consumption decrease significantly.
Researchers at the University of Edinburgh and Karlsruhe Institute of Technology analyzed the impact of consumption trends on biodiverse regions and found that increases in meat and milk production result in sharp rises in land clearing in tropical regions with high levels of biodiversity. But by replacing meat and dairy with plant-based alternatives, the researchers predicted that global demand for agricultural land could be significantly reduced in biodiverse regions.
---
Effects of Biodiversity Loss on Health & Hunger