Here's a selection of events that we've strengthened through our sponsorship and/or organization.
---
 Animal Rights National Conference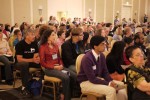 The Animal Rights National Conference is the U.S. animal rights movement's annual national conference. It is also the world's largest and longest-running animal rights gathering, hailing back to 1981. It is designed for people who wish to improve their animal advocacy skills or simply wish to interact with other animal activists, and is the only conference open to all points of view on achieving animal liberation. 
---
Africa Network Animal Welfare Conference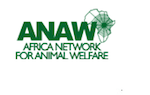 Africa Network for Animal Welfare (ANAW) is a Pan-African Organization based in Kenya that promotes humane treatment and better protection of all animals. ANAW has spearheaded a number of animal welfare campaigns while building networks with governments, political leaders, media and other institutions to press for effective policy and legislation changes for the protection of animals at both the national and community level.
---
 Central Florida Earth Day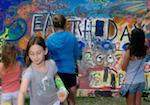 Organized by Vegetarians of Central Florida (VegCF), Central Florida Earth Day is an annual celebration bringing together hundreds of vendors and exhibitors to encourage the community to celebrate our planet and demonstrate our responsibility to protect it. The festival hosts a variety of eco-friendly organizations (including AWFW) that share their tips for green living and green food choices. The festival is the largest Earth Day celebration in the state and includes a variety of local music, food and art.
---
Central Florida Veg Fest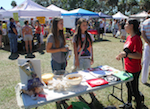 Central Florida Veg Fest is an annual festival put on by the all-volunteer organization Vegetarians of Central Florida. As the largest in central Florida, CF Veg Fest is a community collaboration where the vegetarian lifestyle is celebrated by means of exhibits, games, food, art and music.
---
 DC Veg Fest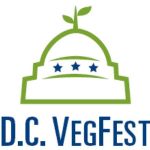 The DC VegFest aims to highlight how easy and delicious it is to choose vegetarian foods in and around the nation's capital. Founded by the Vegetarian Society of DC in 1997, this free festival celebrates the city's diverse palate for animal-friendly cuisine, and the many benefits of a plant-based diet. Featuring speakers, cooking demonstrations, free food samples, dozens of exhibitors, commercial vendors, and area food vendors, the DC VegFest has something for everyone. AWFW is proud to be an ongoing sponsor and exhibitor. 
---
Food Day (Center for Science in the Public Interest)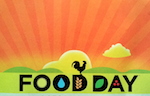 Food Day is a nationwide celebration of healthy, affordable, and sustainably produced food, and a grassroots campaign for better food policies. It builds all year long and culminates on October 24. The annual event involves some of the country's most prominent food activists, united by a vision of food that is healthy, affordable, and produced with care for the environment, animals, and the people who grow, harvest, and serve it. Across the country, more than 4,700 Food Day events took place in 2013, from community festivals in Denver, Savannah, and New York City, to a national conference in Washington, DC, to thousands of school activities in Portland, Minneapolis, and elsewhere.

---
 India for Animals Conference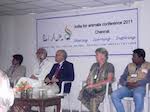 The Federation of Indian Animal Protection Organisations (FIAPO) hosted the first India For Animals Conference in January in Chennai, Tamil Nadu, India. The Conference was an opportunity to introduce Indian animal protectionists to new ideas, to help them improve their advocacy as organizations and as individuals, and to provide a platform with which to feel a sense of fellowship with other animal advocates. The conference also served to strengthen the animal protection movement in India.
---
International Fund for Africa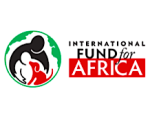 The International Fund for Africa (IFA) operates on the principle of Ahimsa— nonviolence and respect for all life. IFA promotes non-hierarchical and non-exploitative relationships between human beings and animals. They work tirelessly to help working and homeless animals in Africa, and to promote veganism for the wellbeing of animals and humans. With the help of AWFW, IFA founder Anteneh Roba had the opportunity to attend US and International conferences to speak on behalf of the work of The International Fund For Africa.
---
 International Vegan Festival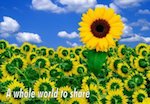 The 13th International Vegan Festival addressed matters relating to vegan nutrition, its benefits for health, and the positive social and environmental impact of veganism, including the ethical, ecological and scientific aspects. The program also discussed why animal food production is unsustainable, and the health and environmental problems deriving from the consumption and exploitation of animals.
---
Local Future Sustainability Conference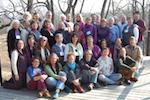 Local Future is a non-profit educational organization focused on sustainable living, featuring free online video talks, live local events, workshops, and conferences. Their International Conference on Sustainability brought together visionaries, activists, and leaders to explore visions for the future in the areas of sustainability, peak oil, climate change, economics, politics, renewable energy, food security, transition towns, bioregionalism, permaculture, compassionate living and culture change.
---
 National Conference to End Factory Farming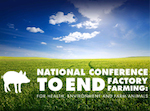 The National Conference to End Factory Farming brought together nearly 350 environmental, animal protection, and public health advocates and professionals to discuss the negative impacts of modern animal agriculture, and to set in motion new ideas and collaborative actions for a kinder, healthier and greener food future.
---
NYC Veggie Pride Parade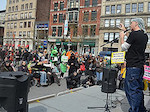 Each year in NYC, the Veggie Pride Parade brings together animal advocacy groups, activists, and hundreds of pro-veg New Yorkers to march through NYC and express their veggie pride. This event is also a tremendous public outreach effort, with tons of speakers and exhibitors offering information and literature on every aspect of veganism, from health to animal welfare to the environment. Delicious vegan food samples abound. 
---
 Taking Action for Animals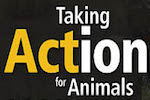 Taking Action for Animals is a national conference for animal advocacy that brings together diverse individuals from across the country for a shared goal: to improve the lives of all animals. Participants gain a better understanding of the many issues that animals face in our society, and learn that helping animals can begin in their own homes . . . in their neighborhoods . . . and in their communities. From seasoned activists to newcomers, TAFA provides education to help anyone become a better animal advocate, with take-away tools for real impact and change.
---
 Toronto Veggie Pride Parade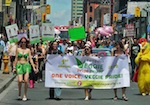 The Toronto Veggie Pride Parade is held in the heart of Toronto, Canada. Event attendees from around the region celebrate and support a vegetarian lifestyle. The parade is also a venue for local advocates to educate the general public about today's cruel, unsustainable, and exploitative meat, egg, and dairy industries. Through education, food samples, and a positive environment TVPP encourages non-vegetarians to adopt a compassionate way of living.
---
 Vegtoberfest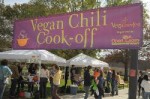 Vegtoberfest is Open the Cages Alliance's annual autumn festival to celebrate and promote compassionate, healthy and sustainable vegan living. The 2nd Annual Vegtoberfest was held on Saturday, October 27th, 2012 at Riverside Park in Baltimore, Maryland. More than 50 exhibitors, vendors and speakers advocated on behalf of a vegan lifestyle and showcased the benefits of vegan food choices to festival attendees. Additionally, eight chefs competed in a Vegan Chili Cook-Off and festivalgoers were invited to sample all eight entries and vote for their favorite chili.
---
 World Veg Festival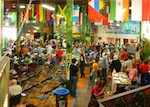 The World Veg Festival is an award-winning outreach event organized by the San Francisco Vegetarian Society. This action-packed weekend features informative lectures by the movers and shakers of the animal rights movement, plus creative vegan cooking demos; international cuisine to sample or buy; vegan friendly merchandise; a Childrens Corner; an Eco-Fashion Show, and a variety of live entertainment.