We are proud to present A Well-Fed World Global Food Sustainability Conference with our partners and organizers VegfestUK in Brighton, England, Sunday, March 29th, 2015.
This new conference focuses on food sustainability at the local and global levels, with particular attention to the negative consequences of animal agriculture. It includes speakers, films, discussions, and Q&As.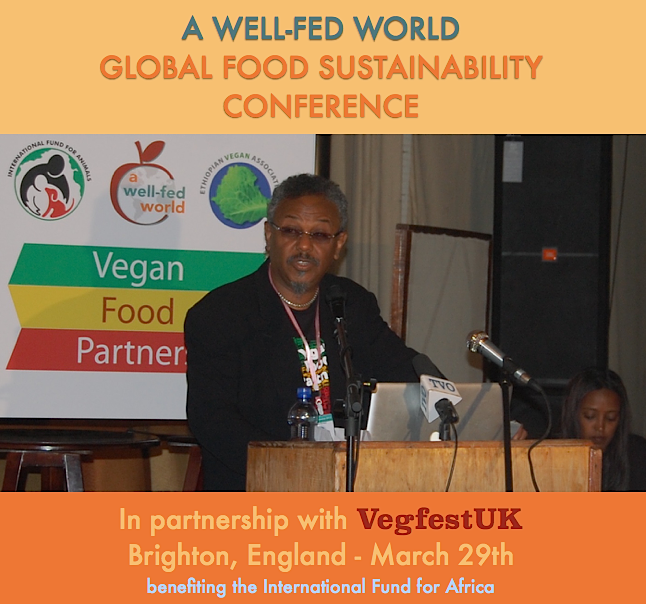 ---
Leading the Global Section…
A Well-Fed World Founding Director Dawn Moncrief will discuss the negative impact of animal product production/consumption on global hunger, climate change, conservation, and animal well-being.
International Fund for Africa President and Co-Founder Anteneh Roba will discuss his organization's work in Ethiopia helping people AND animals. Their new School Health and Nutrition Program will be featured and a fundraiser will be hosted on their behalf.
Brighter Green will be represented with the screening of their What's For Dinner? documentary on increasing meat consumption in China, as well as sharing their research on "Ethiopia's Complex Relationship with Livestock."
---
Speakers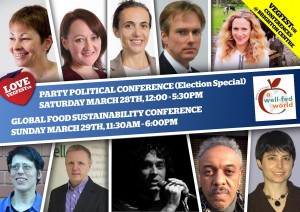 With population and meat consumption both increasing at alarming and dangerous rates, global food security (especially for the world's poor) is increasingly tenuous, while the devastating impact of meat production on climate and environment deepens.
What can we do to meaningfully reverse this trend? Conference speakers will address the situation from multiple perspectives and propose practical ways to achieve global food security and environmental sustainability.
Confirmed speakers include:
Dawn Moncrief (Founding Director of A Well-Fed World)
Anteneh Roba, M.D. (Co-Founder and President of the International Fund for Africa)
Kerry McCarthy (Bristol East Labour MP, Ambassador of The Vegan Society)
Jarvis Smith (Frontman of the Phoenix Rose, founder of PEA Awards & co-founder of PQ Magazine)
Amanda Baker (Senior Advocacy and Policy Officer at The Vegan Society)
Tony Wardle (Associate Director of Viva!)
Simon Ross (Chief Executive of Population Matters)
Grahame Mayo (Co-op member of Infinity Food Shop, Brighton)
David McAuley (Chief Executive of the Trussell Trust)
Judith Smith (Director of Buturi Project)
Duncan Williamson (Food Policy Manager of World Wildlife Fund UK)
Mary McGrath (Chief Executive of Food Cycle)
Allan Brown (Secretary of Brighton & Hove Allotment Federation)
Mark Carroll (Publicity Officer of Brighton & Hove Allotment Federation)
---
Schedule
Local Section
11:30 – 11:40am – Kerry McCarthy – Introduction
11:40 – 12:35pm – 5-Minute Solutions to Local Food Sustainability:
Allan Brown & Mark Carroll (Brighton & Hove Allotment Federation) – Growing Your Own Food
Mary McGrath – (Food Cycle) – Community Food Projects
Grahame Mayo (Infiinty Food Co-op)
Vegan Organic Network – Farming and Growing
Duncan Williamson (World Wildlife Fund UK)
David McAuley (Trussell Trust) – Hunger in the UK is About More Than Food
Judith Smith (Buturi Project)
Amanda Baker (The Vegan Society)
12:35 – 12:45pm – Amanda Baker (The Vegan Society) – Conclusion

Global Section (General)
1:00 – 1:30pm – Dawn Moncrief (AWFW) – How Animal Consumption Hurts the World's Poor
1:30 – 2:00pm – Film (Brighter Green) – "What's for Dinner?" (Rising Meat Consumption in China)
2:00 – 2:30pm – Dawn Moncrief (AWFW) – How Vegan Diets Best Reduce Global Warming.
2:30 – 2:45pm – Dawn Moncrief (AWFW) – Q&A
2:45 – 3:00pm – Tony Wardle (Viva!)
3:00 – 3:10pm – Kerry McCarthy (MP & The Vegan Society)
3:10 – 3:20pm, – Jarvis Smith (Food Revolution)
3:20 – 3:30pm – Simon Ross (Population Matters)
3:30 – 3:45pm – Dawn Moncrief (AWFW) – Global Overview Wrap-Up

Global Section (Ethiopia)
4:00 – 4:15pm – Dawn Moncrief (AWFW) – Ethiopia Exporting Food Despite Ongoing Hunger Crises
4:15 – 4:45pm – Anteneh Roba (International Fund for Africa) – Helping People AND Animals in Ethiopia
4:45 – 5:15pm – Anteneh Roba (IFA) – Video and Q&A
5:15 – 5:30pm – Anteneh Roba (IFA) – New School Lunch Program – Join the Team!
5:30 – 5:40pm – Dawn Moncrief (AWFW) – Ethiopian Section Wrap-Up
5:40 – 6:00pm – Speaker Meet and Q&A
---
VegfestUK General Activities
This year's VegfestUK Brighton (March 28th & 29th) features 160+ vegan-themed stalls with lots of free samples, a Food Village with 15 caterers and 3 bars, the UK's first Vegan Comedy Festival, a Party Political Conference, the Global Food Sustainability Conference, a Hemp Expo, a New Product Showcase, a Kids Area, a LifeWell Hub, dozens of Talks and Cooking Demos, a Cinema, live music, Bodybuilding contest, Speed Dating session, LGBT social, free gifts, and more.
---
Travel Info
Address
Brighton Centre, King's Rd, Brighton, East Sussex BN1 2GR (Seafront on the King's Road) – Map
Air
The nearest airport to Brighton is London Gatwick. The airport is about 28 miles from Brighton via the M23/A23. It takes an average of 30 minutes by car.
Rail
Brighton's train/rail station is only a 10-minute walk from the Brighton Centre. There are direct trains to London and frequent services from Portsmouth, Worthing, Lewes, Seaford, Eastbourne and Hastings.
Auto
Brighton is easily accessible by all areas. From London take the M23/A23.
Lodging