In response to the crisis in Ukraine, we are distributing grants from our Disaster Relief Fund to mission-aligned groups helping people and animals in Ukraine and surrounding regions.
Current groups include Lviv Vegan Kitchen, Shelter Ugolyok (a vegan animal sanctuary), Every Animal (a Ukrainian animal rights group), and the Polish chapter of Food Not Bombs, which is providing plant-based food to refugees who have fled to Poland. We have also assisted Seed Programs International, who are distributing vegetable seed kits to refugees for kitchen and community gardens.
In order to provide more support, we've set up a special Ukraine Relief Fund in order to be able to assist other groups in need and/or increase funding to current grantees as the crisis continues to unfold. You can help by donating and sharing!
When donating by credit card, please select the Ukraine Relief Fund in the Program section drop-down and/or leave a comment. If donating by PayPal or check, please add a note specifying Ukraine Relief.
As always, we send 100% of all donations to the groups doing the direct, on-the-ground work. Please note we have also created a dedicated fundraiser to exclusively help Lviv Vegan Kitchen purchase a much-needed vehicle. More details on that and the other groups below.
Lviv Vegan Kitchen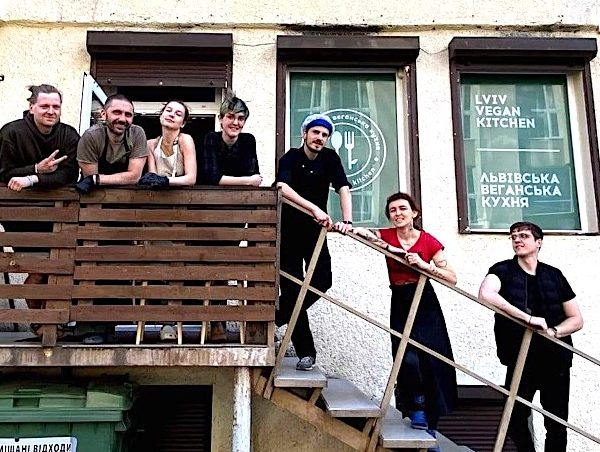 Soon after Russia invaded, a few members of Vegan Ukraine quit their jobs to open a full-time vegan meal distribution center called Lviv Vegan Kitchen (LVK), as reported by The Independent.
At first they worked out of a small vegan restaurant, but demand from refugees saw lines out the door, with more than 200 meals being distributed daily. Fortunately, they were able to relocate to a larger facility and increase their distribution, now providing hundreds of free vegan meals daily.
But demand continues to increase as people from eastern and southern Ukraine flee the escalating attacks. Combined with surging prices and food shortages, there is critical need for a dedicated vehicle so that volunteers can make the 8-hour drive (each way) to Poland for food and supplies.
Purchasing a dedicated vehicle would not only support LVK's increasingly high volume at the free vegan kitchen, it would also allow them to expand food distribution through organized drop-off sites and ship more meal packages specifically to vegans defending Ukraine (500+ meals have already been shipped).
Please support our dedicated fundraiser to help Lviv Vegan Kitchen purchase a vehicle so they can keep feeding refugees and wartime citizens.

---
Shelter Ugolyok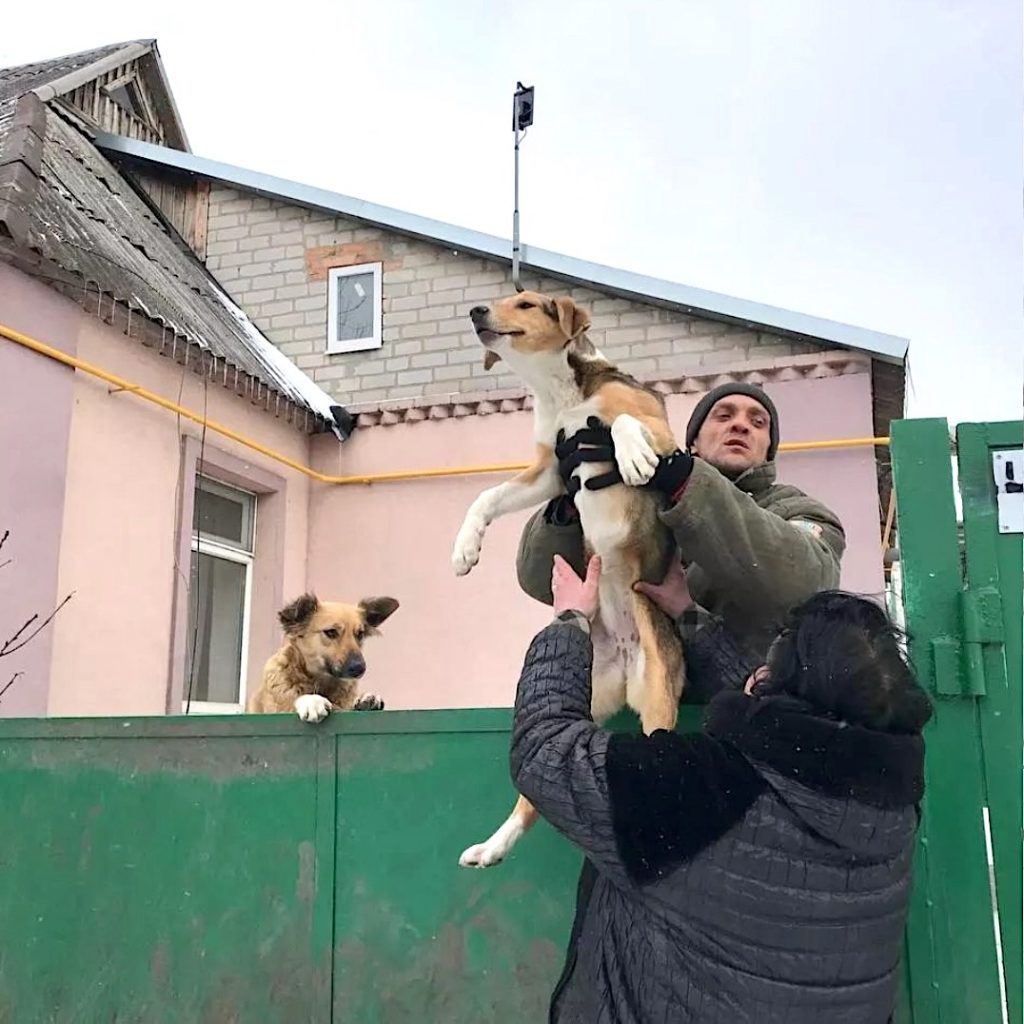 Shelter Ugolyok is a non-profit vegan animal rescue with three sanctuary properties operating across Ukraine. They rescue and provide shelter to hundreds of farmed and companion animals. Since the invasion, they have not only continued to feed and care for their animals, including feed transport in dangerous conditions, but they have also continued rescuing new farmed animals as well as animals left behind by fleeing refugees. They are also providing food to people in need in their communities.
---
Vegan Kitchen Ukraine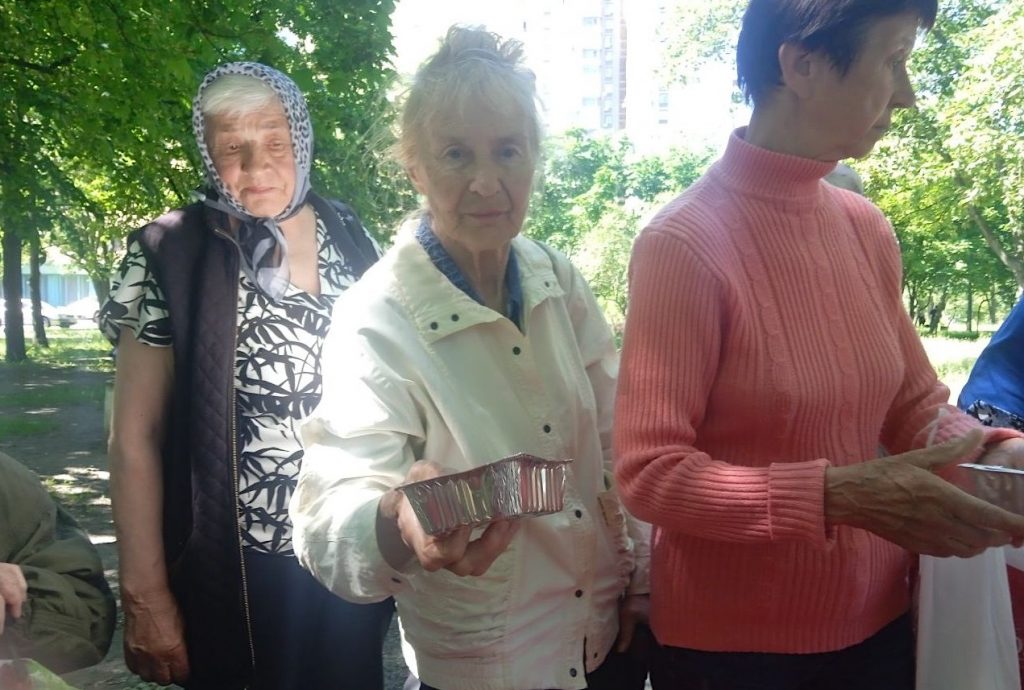 Vegan Kitchen Ukraine is an initiative of Every Animal, a Ukrainian animal rights group devoted to grassroots vegan advocacy, education, and animal rescue. In response to the Russian invasion of Ukraine, their volunteers organized a kitchen hub preparing free plant-based meals for people in need in four cities: Vinnitsya, Uzhhorod, Rivne, and Kyiv. To date, they have provided 19,350 free vegan meals, and sent 355 food parcels to vegan soldiers.  They are also helping animal refugees through rehoming, purchasing and distributing food, and transporting animals to safety.
---
Food Not Bombs
Volunteer Food Not Bombs chapters in Poland have been fighting food waste and hunger for decades by preparing free, hot plant-based meals for those in need, cooking with vegetables salvaged from markets and growers that were otherwise destined for the garbage. They have continued their free food distribution throughout the pandemic, and since the Russian invasion of Ukraine, have ramped up efforts to provide meals, clothes, and hygiene products to Ukrainian refugees. FNB volunteers set up cooking stands along the Poland-Ukraine border, cooking soups and other warm meals from morning to night, and distribute these along with water, hygiene supplies, clothing, and other items to refugees entering the country. Chapters also organize weekly meal distribution in their respective cities, and demand has greatly increased with the influx of Ukrainian refugees. Food and hygiene parcels prepared by Polish FNB chapters are also delivered to refugee centers around the country.
Thanks to generous supporters like you, we've raised and distributed $23,000 in support of these groups. As the war wages on and need continues to grow, please consider donating to our Ukraine Relief Fund.
Make a tax-deductible donation now.