Conference – September 2-4, 2013
AWFW helped kick-start the Pan African Animal Welfare Alliance…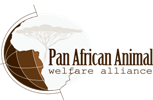 The concept emerged from a self-created working group on farm animals at the Africa Animal Welfare Action Conference on September 8th, 2010 in Nairobi.
AWFW's Dawn Moncrief, Brighter Green's Mia MacDonald, and the International Fund for Africa's Anteneh Roba and Seble Nebiyelou joined a dozen of Africa's top leaders to brainstorm the possibilities of a continent-wide alliance of animal advocates that would be recognized by the United Nations and able to affect national and global policies.

Within one year, the African-led steering committee moved the Pan African Animal Welfare Alliance (PAAWA) from concept to reality. PAAWA is now an independent entity that provides leadership support in key advocacy and capacity areas of its members and other animal organizations in the region.
PAAWA's mandate is informed by the realization that significant changes in policy and practice can only be achieved through a collective and coordinated local and national effort that is backed by a continental support of peers and partners.