Below we highlight a few of the standout farmed animal care and advocacy projects that we support. For more animal-related and other categories of grants, visit our Grants-by-Issues page. 
---
Surgery for Plastic-Filled Cows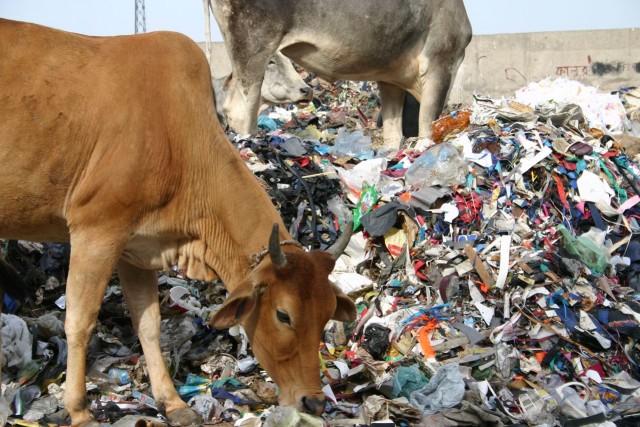 Although India has the world's largest population of vegetarians, there are many urban dairy farms. Urban dairy farmers frequently send their animals into the streets to forage for food, as there is little pasture and little or no space to keep the animals at home. These cows share the roads with abandoned male dairy calves (discarded because they cannot produce milk), young and old bulls, and old and dry cows. They scavenge between garbage bins, vegetable markets, and hotels, finally ending up at garbage landfills.
Nearly all garbage and food waste in India is now disposed of in plastic bags. Because the bags are usually tied in a knot, cows are unable to reach the food leftovers inside and end up eating the plastic bags whole. Owing to cows' complex digestive systems, these bags never get expelled and, over time, accumulate inside the rumen (the first stomach of the cow). There, these bags get entangled and impacted, becoming hard like cement. Without surgical removal of the plastic, each cow faces a lingering, painful death.
Through our partnership with Help Animals India, we are saving lives. For only $90 each, the Plastic Cow Project saves these animals by surgically removing the plastic from their stomachs, and providing rehabilitation and sanctuary for healing. The situation is critical, and we continue to raise funds on behalf of this dire, heart-breaking situation. A powerful half-hour documentary, The Plastic Cow, explores the plight of these animals and has been made available for free viewing online.
---
 Farmed Animal Rescue, Education & Outreach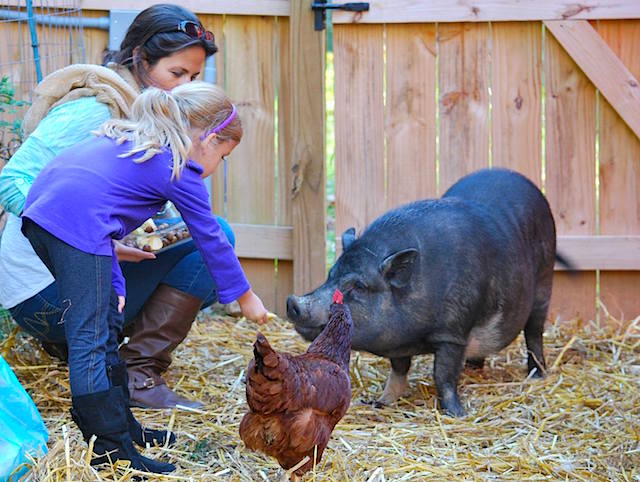 Triangle Chance for All rescues farmed animals who end up in county shelters in the Triangle region of North Carolina, and prevents the animals from falling back into the profit-driven agricultural system.
TCA directly provides or secures permanent sanctuary for farmed animals while working to end the exploitation of non-human animals by promoting a vegan lifestyle.
Their website and facebook page provide thoughtful educational resources and motivation for vegan living. Our support assists TCA in their rescue and rehoming of farmed animals.
---
 Documentary Film Outreach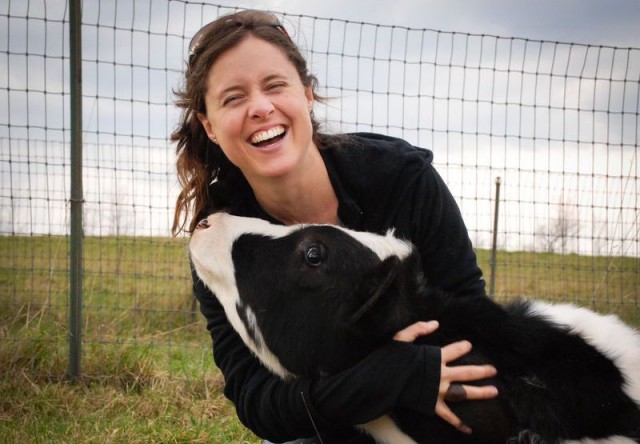 The Ghosts In Our Machine is a multi-award winning documentary that illuminates the lives of individual animals living within, and rescued from, the machine of our modern world. Through the heart and photographic lens of award-winning animal rights photojournalist Jo-Anne McArthur, audiences become intimately familiar with a cast of non-human animals.
The film grippingly follows Jo-Anne over the course of a year as she documents several animal stories in parts of Canada, the U.S. and in Europe. Each story and photograph is a window into global animal-using industries: Food, Fashion, Entertainment and Research.
Our support assists with film screenings and related film outreach efforts.
---
 Animal Rescue & Vegan Outreach in Tibet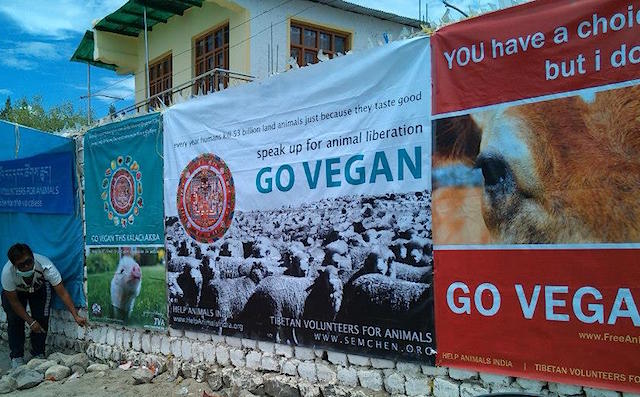 Tibetan Volunteers for Animals (TVA) is a registered non-profit organization run by a group of Tibetan activists devoted to animal rescue, advocacy, and the promotion of veganism. Their main objectives are to foster the understanding that all sentient beings have an equal right to life, to stop all forms of animal abuse, and to contribute to the protection of the environment and the creation of a more peaceful planet.
Despite a small budget and limited resources, the hard-working members of Tibetan Volunteers for Animals have campaigned for veganism in more than 200 Tibetan settlements within India, Bhutan and Nepal. They are well known for their annual vegan outreach campaign at Kalachakra, the largest Buddhist Religious Ceremony attended by over 200,000 devotees. TVA also recently opened the We CARE Animal Rescue Clinic in the Tibetan Settlement of Bylakuppe.
---
 Rescue of Hens from the Egg Industry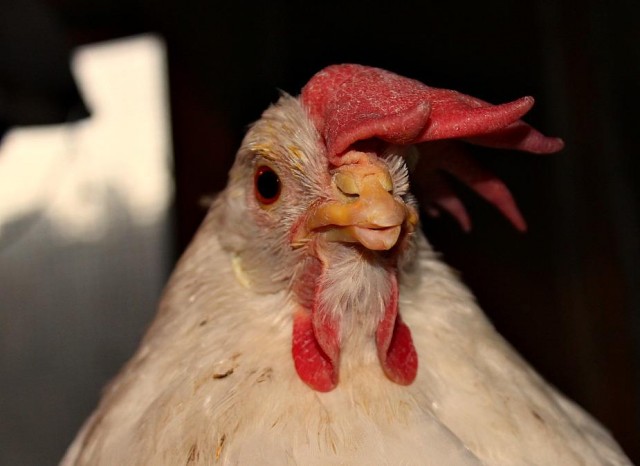 Hen Harbor specializes in the rescue of factory-farmed hens used for egg-laying, most of whom have spent their lives inside wire cages so small that they could not even spread their wings.
Because hens used for eggs have been bred to produce in such great excess (more than 300 eggs per year, versus 12 per year for a wild hen), their reproductive tracts age 20 times faster than the rest of their bodies. Many fall victim to impacted oviducts — a condition in which their eggs get stuck inside them.
Without surgery to remove the eggs, hens will die slowly and painfully. About 90% of Hen Harbor's operating expenses go to surgical and veterinary care to save these birds.
Our grant assists with construction of an on-site animal hospital.
---
 Forest Preserve Sanctuary for Pigs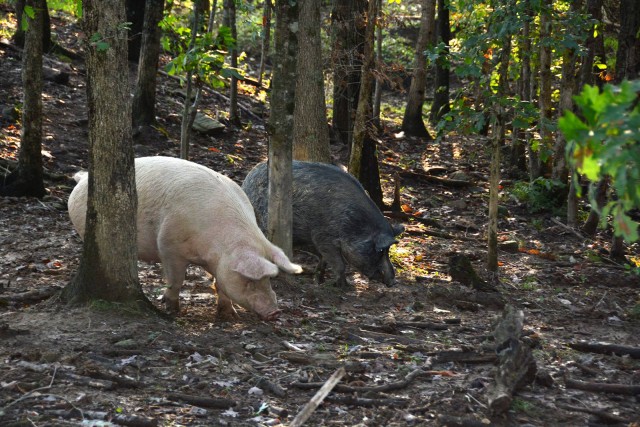 From factory farm to fashionable pet, the various breeds of domestic pigs have been removed from fields and woods, crammed by the millions into concrete and steel enclosures, deprived of fresh air and sunshine, genetically engineered to grow "fatter faster," and are slaughtered in numbers that exceed more than 2 million pigs every single week in the U.S. alone.
The Pig Preserve in Jamestown, Tennessee, is pioneering an approach to sanctuary that allows pigs to live in their natural environment—a forest—and to enjoy the space, freedom and privacy of nature with minimal human interference.
The Preserve offers pigs the ability to roam and root to their hearts' content, fulfilling important seeking behaviors for these highly inquisitive animals. Pigs are able to form natural social groups while enjoying the deep woods; lush pastures; fresh, natural water from springs, streams and ponds; and the ability to forage and graze for much of their daily sustenance. The Preserve provides pigs with an abundance of native fruit and nut trees on which to forage, as well as plots of wild vegetables. The pigs then spread undigested vegetable and fruit seeds in their manure, contributing to the growth of natural food sources.
Our grant assists Pig Preserve with rescue, rehabilitation, and property maintenance.
---
Pan African Animal Welfare Alliance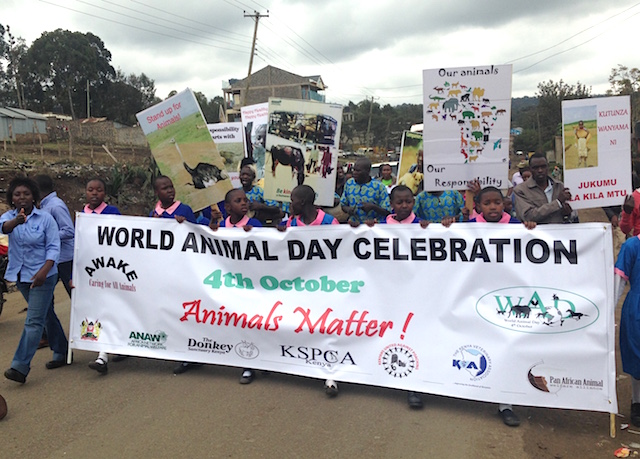 The Pan African Animal Welfare Alliance emerged from a self-created working group on farm animals at the Africa Animal Welfare Action Conference on September 8th, 2010 in Nairobi. AWFW's Dawn Moncrief, Brighter Green's Mia MacDonald, and the International Fund for Africa's Anteneh Roba and Seble Nebiyelou joined a dozen of Africa's top leaders to brainstorm the possibilities of a continent-wide alliance of animal advocates that would be recognized by the United Nations and able to affect national and global policies.
Within one year, the African-led steering committee moved the Pan African Animal Welfare Allaince (PAAWA) from concept to reality. PAAWA is now an independent entity that provides leadership support in key advocacy and capacity areas of its members and other animal organizations in the region.
PAAWA's mandate is informed by the realization that significant changes in policy and practice can only be achieved through a collective local and national effort that is backed by a continental support of peers and partners.
---
 Mexico's First Farmed Animal Sanctuary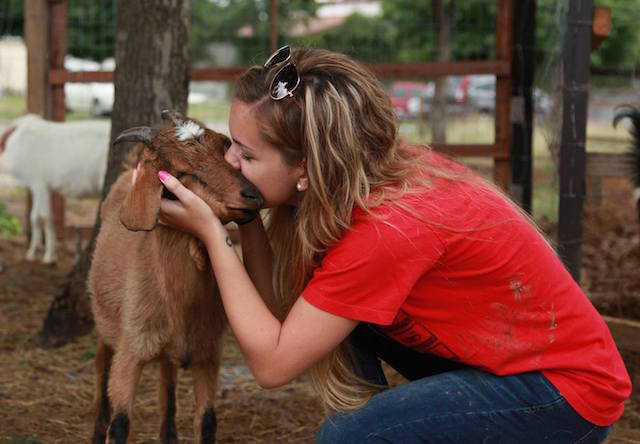 Libres Al Fin! Sanctuario (Finally Free! Sanctuary) is the first sanctuary for farmed animals in Mexico. It is located in the outskirts of Monterrey, in the state of Nuevo León, a region whose economy is based on factory farming.
Established in 2014, Libres Al Fin! provides permanent refuge to rescued farmed animals, and educates the public about the plight of animals exploited for food.
They also connect people with farmed animals as individuals, showcasing their unique personalities and emotional lives through sanctuary tours and educational workshops, and provide information and resources on how to adopt a vegan lifestyle.
---
Bearing Witness Outside Slaughterhouses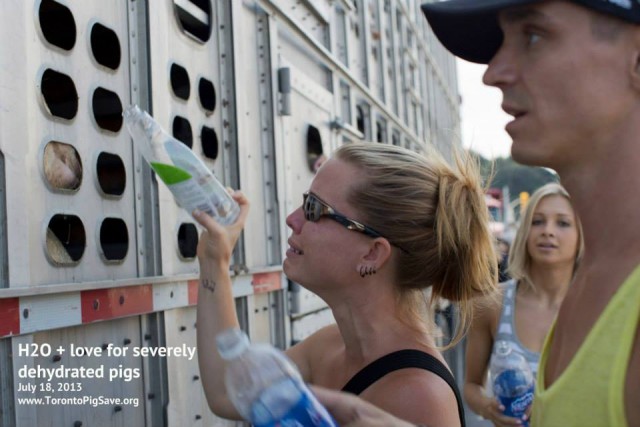 Toronto Pig Save is a grassroots animal rights organization that bears witness to farmed animals in transport trucks outside of slaughterhouses. They poignantly document animals in their last moments of life via stirring photos and video footage, which are then shared widely on social media.
TPS also actively engages in other forms of vegan outreach, including their highly visible "Why Love One But Eat the Other?" subway poster campaigns. They practice a nonviolent, community organizing strategy that encourages leadership in all individuals, with the goal of building a democratic, mass-based, grassroots movement to end the atrocities committed by humans against animals, and to create a world of equality.
Our grant supports materials for their weekly vigils, including posters, banners, and camera and video equipment.
---
 Poplar Spring Sanctuary and LoveAnimals.org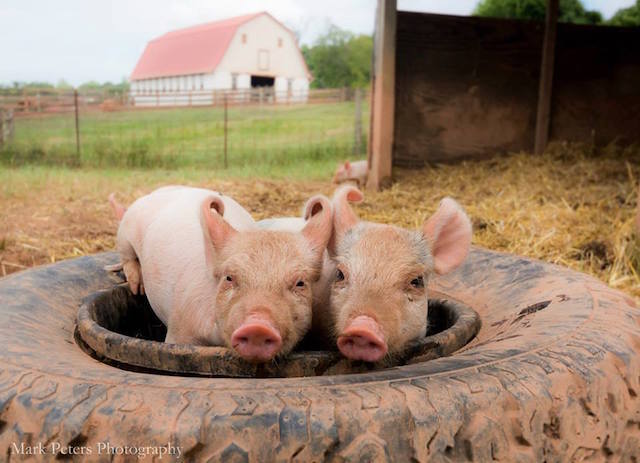 LoveAnimals.org is a non-profit crowdfunding website that helps animal charities and volunteers throughout America raise money for critically needed projects.
Animal welfare and wildlife conservation non-profits receive only 2% of charitable giving in America. LoveAnimals.org increases giving by providing a user-friendly platform where groups can list their most urgent funding needs, and where donors can quickly and easily contribute to the projects that inspire them.
Collecting many small donations can fund entire projects, providing groups with the resources to help more animals more quickly. LoveAnimals.org facilitates funding for four different categories of animals: companion, wild, farmed, and aquatic animals.
(Photo is from a LoveAnimals.org campaign to raise funds for a new pig barn at Poplar Spring Animal Sanctuary. In July 2014, Poplar Spring rescued 10 pigs who were being kept in a trash-filled pen with no shelter, food, or water. Although already full to capacity, they could not turn away from these pigs who desperately needed a home, especially when one gave birth to seven piglets just as they were about to be rescued.)
---
 Saving Cows & Calves from Slaughter – India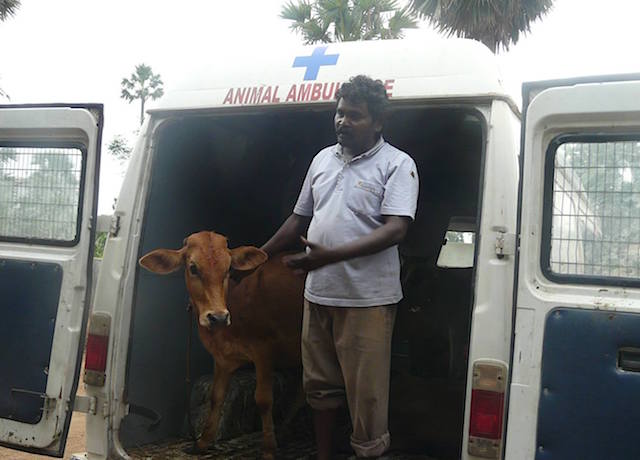 While cow slaughter is illegal in all but two of India's 29 states, anti-slaughter laws do nothing to prevent "spent" dairy cows and buffalo (and male calves of both species) from being shipped to other states or countries for slaughter. As our partners at Help Animals India write: "In India, cows are sacred in principle… but this reverence is often expressed in words alone."
"Often, four times the maximum allowable number of animals are loaded onto a truck. And that trip can be hundreds of kilometers in stifling heat, with no food, water or rest breaks for the suffering animals. To cover the animal abuse, the truckers often tie the cows by their legs, forcing them to lie down – sometimes in a crushing pile-up – so a tarp can be thrown over the horrible sight, allowing the truck to pass through towns and cities without raising eyebrows or alerting authorities.
Stopping the system and changing the culture that permits slaughter is a slow work in progress. And more needs to be done to stop the problem at its source: the demand for milk, ghee, paneer and other dairy foods."
Dairy calves not auctioned for slaughter are left by the thousands at temples, tied to the gates as a purported 'offering,' when in actuality they are left there to die, languishing in all temperature extremes until they succumb to fatal dehydration or starvation.
The Visakha Society for Protection and Care of Animals (VSPCA) works tirelessly to rescue cows and calves from illegal slaughter and temple offerings. They provide lifelong care and refuge to as many rescued cattle as they can, but the numbers are overwhelming. To help, please visit: http://www.vspca.org/donate.