Central Florida Earth Day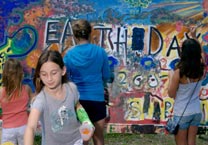 Organized by Vegetarians of Central Florida (VegCF), Central Florida Earth Day is an annual celebration bringing together hundreds of vendors and exhibitors to encourage the community to celebrate our planet and demonstrate our responsibility to protect it. The festival hosts a variety of eco-friendly organizations (including AWFW) that share their tips for green living and green food choices. The festival is the largest Earth Day celebration in the state and includes a variety of local music, food and art.
---
Ethiopian Solar Village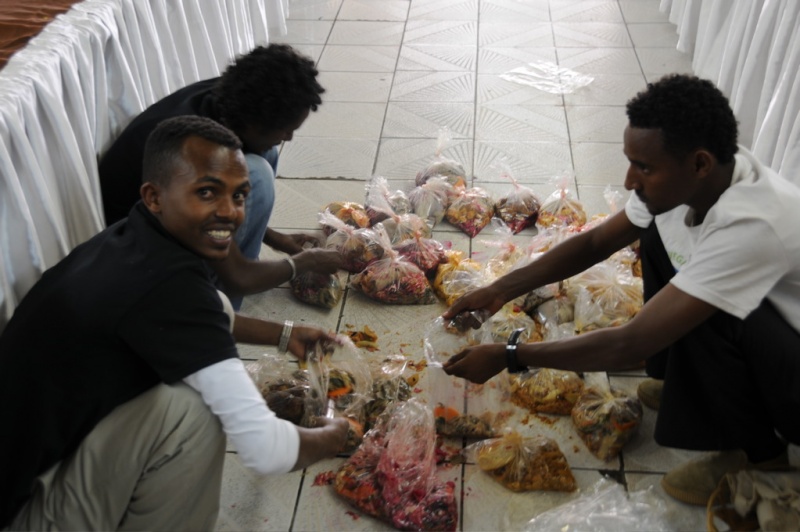 The Ethiopian Solar Village is creating a community in which the production of power, water and food is done on-site with total use of "off-the-shelf appropriate technologies." Using animal-free (also known as veganic and/or stock-free) farming as the food system framework, the community's agriculture will thrive on a variety of solar technologies including green manure crops, composting of waste, and others to provide environmental control of the farming. The community will serve as an educational source on the use of microbial technologies.
---
Factory Farming Documentary – Brighter Green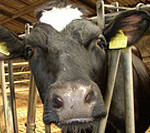 AWFW is helping to support the production and distribution of Brighter Green's original documentary video and accompanying policy brief on the intensification of the dairy and beef (including buffalo) industries in India. See the 5:40 minute video on YouTube. The video and paper explore the realities and effects of increased consumption, intensification, and exportation. While India's per capita meat consumption is only 1/13th of the U.S.'s, India has the world's largest dairy industry and 300 million cattle. The policy recommendations encourage a move away from resource-intensive livestock and feed industries and adoption of laws to protect farmed animals from the confinement and abuse of factory-farm style production methods.
---
Food Systems Survey – F.E.P.

The Food Empowerment Project  (F.E.P.), located in California's Santa Clara County, is an all-volunteer organization working to encourage healthy and compassionate food choices. They recently completed a survey-based research study detailing the food injustices in the Silicon Valley, which is known as one of the wealthiest areas of the country. With the help of the AWFW grant, F.E.P. will continue its work by tailoring surveys to address the specific needs in the most impacted of communities revealed in the project. Results can then be utilized by policymakers to effectively implement food systems based on the needs of the community.
---
Live Vegan Campaign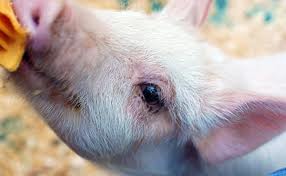 Live Vegan is a national campaign based in Washington, D.C. promoting vegan food choices as a means of living a compassionate lifestyle and ending animal suffering. Live Vegan is a public education campaign that is a valuable resource for both dedicated advocates and veg-curious newcomers.
---
Poplar Spring Animal Sanctuary

AWFW is a proud sponsor of Poplar Spring Animal Sanctuary's 8th Annual Run for the Animals. The Poplar Spring Animal Sanctuary is the closest farm animal sanctuary in the Washington, DC metro area. It spans 400 acres of protected habitat and is a refuge for rescued animals. In addition, they host free visits to the general public and free educational materials on farm animal and wildlife issues.
---
Toronto Veggie Parade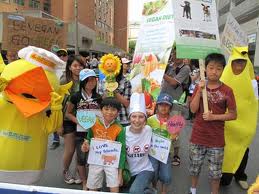 The Toronto Veggie Pride Parade and Fair is held in the heart of Toronto, Canada. Event attendees from around the region dress up to celebrate and support a vegetarian lifestyle. The parade is also a venue for local advocates to spread their message about the benefits of enjoying healthy animal-free foods to curious onlookers and visitors.
---
Veganic Agriculture Network

The Veganic Agriculture Network is a Canadian organization working collaboratively with overseas partners to grow an international movement for plant-based farming. Their efforts reach farmers, gardeners and consumers, providing information regarding plant-based techniques, reasons for veganic agriculture, farm profiles, and other supplementary resources all via their website. This grant will aid the Network in expanding their forum by increasing the availability of free online resources and help with their goal of offering more comprehensive information.
---
Vegetable Garden Project-Tanzania Animal Welfare Society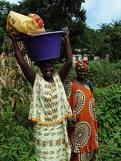 Tanzania Animal Welfare Society fights to alleviate animal cruelty and spread animal welfare awareness in Tanzania. By focusing on local production and accessibility of vegetables, TAWESO hopes to reduce the demand for animals as food sources. The Vegetable Garden Project helps reach this objective by providing women the means to sell produce and support their children. The grant will enable the project to thrive by providing funding to build water wells. Drought is a major hardship in this area and has grave consequences for the livelihood of the widows who rely on the garden for sustenance and income.
---
Viva Vegie Society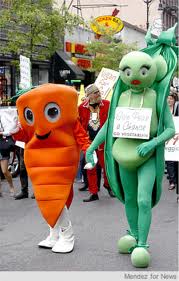 The Viva Vegie Society is located in New York City and is well known for 101 Reasons Why I'm Vegetarian, the book authored by their founder, Pamela Rice.  They also opened a Vegetarian Center.  As the first of its kind, the center offers NY residents a facility to find veg related resources, a meeting space for meetings and events, and an archive of media materials.  In addition, the society publishes the journal, The Viva Vine. Finally, the Society sponsors the annual NY Veggie Pride Parade with a post-parade expo featuring dozens of exhibitors and speakers (including AWFW).
---
We Feed Our People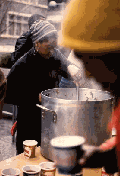 We Feed Our People (WFOP) provides a nutritious meal and warm clothing for homeless citizens throughout Washington, DC. When WFOP was first launched in 1988, programs that provided food for the homeless community, did not provide meals on Sundays and holidays. Working with By Any Greens Necessary and the Soul Vegetarian Restaurant, AWFW awards an annual grant to provide nutritious vegan food for vegetarians and the community-at-large.
---
World Veg Festival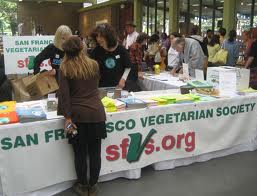 The San Francisco Vegetarian Society organizes the annual World Veg Festival.  The society has been active for 25 years and has received numerous accolades from the community. This year's World Veg Festival will be sponsored by AWFW and will include expert speakers, an eco fashion show, healthy food demos, as well as hundreds of vendors and exhibits.